Robert's birthday this weekend - actually fell on the Saturday. Turned 13. THIRTEEN!!! He's a spotty, gawky, goofy grinned, teenager! Not too grumpy yet though - he did enjoy himself...
Somehow we managed to pack sooo much in. Down the road visiting friends on Friday night; and up early on a damp, overcast day to go laser shooting. Whole morning, running around in the dark, shooting the kids. Excellent fun! Back home for some power food - beans on cheese on toast - left the troops inside out of the rain whilst I tinkered with the jalopies.
As the afternoon drizzled past, the family began to gather for the evening. Presents, cake, and the traditional Chinese takeaway.
Only one thing to do when you're stuffed with noodles and blackbean sauce? Go to the fair! Dodgems, clinging to the walls on the centrifuge thingummy, giggling through the fun house. Huff, puff.
Didn't quit until we hit the waltzers. Yup. About then, adding whirling movements to vegetable chow mein seemed a bit foolish. I was all funned out - so we headed across the green to Di's house (the ceilidh virgin) for a restorative cup of tea. Oooh. It took a while before I felt ready to drive by which time the kids were getting tired, wired, and prickly.
Time to abandon this cold, damp, birthday...
Clocks changed, laid awhile, but the warm morning sun soon convinced us outside. What a difference! Wellies dragged from dusty corners, we ambled down to the water meadows, waded in the stream, de-knotted the kite for some no wind, non-flying, fun. Warmed and aired, the afternoon passed with kids and friends cycling up and down the road, whilst Jenny joined me working on the Cee-dan. As I oiled, adjusted and prepared for the road, she took a chisel to the 77 years of cracked and brittle skins of paint. Yellows, brown, grey, the original maroon, and countless primers.
Till the evening came. Later; later still, with the sunshine and summertime clock change, Jenny gathered her troops to wend her weary way home. Thanks, hun. Alone, unable to resist, I had to try the fruits of all this recent labour. Found the Alice part of my family, easily encouraged her into the old world cinema rear seat - it's still the Odeon Shag Sedan - and went for a little spin around to the neighbour's.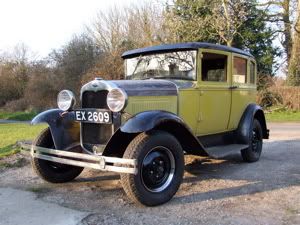 Not far.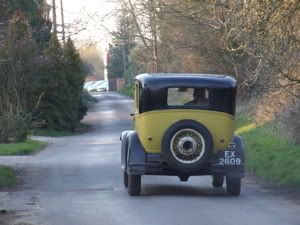 But just enough to know for sure, that Henry's old lady has helped me through the winter months, as much as anyone could. And those that shared the journey with me so far, are going to be with me as we add some smiley miles beneath her rejuvinated skirts.