Last year I missed the first run with the flat-8 boys at Shelsley.  Mirror. Check. More grey hairs. Right - not going to miss out again!

Poor old flivver spent the winter outside under a tarpaulin barely turning a wheel since Prescott until about a month ago when it was popped into a nice dry barn. Excellent then - shouldn't need a thing.  Wrong. With a week to go, I dragged home a spitting, coughing, clutch slipping wreck. Engine out. Threw in another old cover and new plate, blew the dust out of an old Holley 94, popped it on, and we're back to normal (torque tube clunks, squeaking pumps, slapping pistons...).  Even found time to wipe a rag over the dirt and varnish the string bound steering wheel.

Had the chance to send on a set of Blockleys in the Buckland Automotive shop truck, so, on a gloriously sunny Friday, with scant camping gear tied on, I set off after work, met up with Sue & Adrian, popped in to see the progress of the Ben Nevis Centennial project at Tuckett Brothers - mad - and arrived just in time to pitch tent before the rain, walk up the track in fading daylight, get trapped at the top by a thunderstorm, and retire to the bar...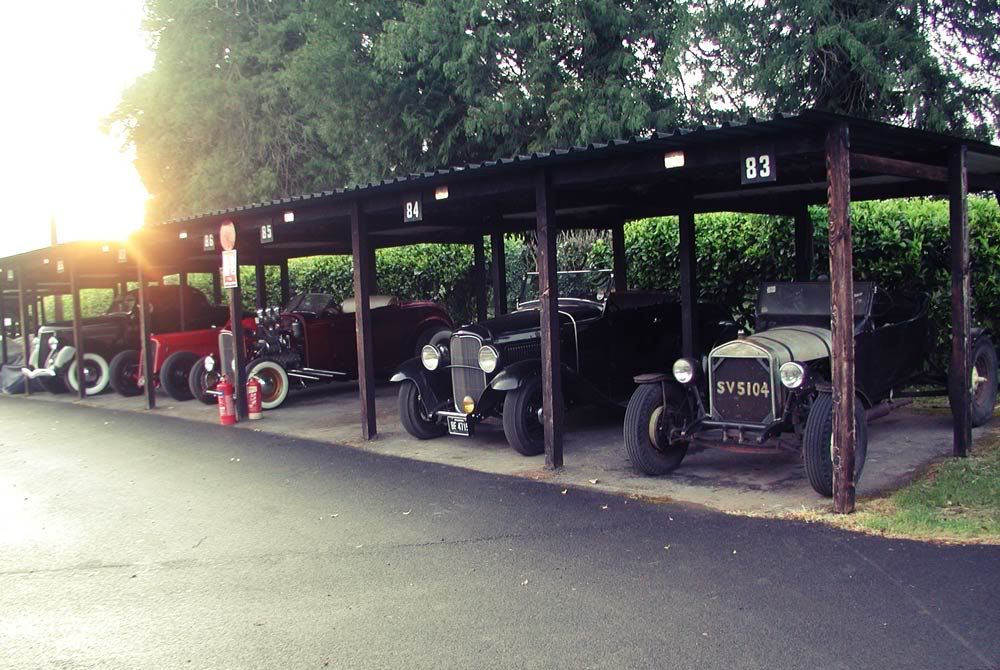 A night sans mattress, more rainstorms, and random wildlife prompted an early start - sticking numbers on a damp car, stripping off the cycle guards, carrying wheels up from the camp site... proper knackered when I noticed a queue forming at the signing on shed. Half hour lining up chatting to some lovely people and I have a prized'first thirty' yellow ticket which, time allowing, will let me get one more practice run. One more chance to break my car. Gulp. Not helped by the incredulous looks from those that realised I'd driven there? In that?  Luckily I'm used to having my sanity questioned early in the morning.
Scrutineering over and, after realising I had to hand my ticket back in to book my practice runs, I had my first run up t'hill. And the rains came down. Visor steams up. Glasses steam up. First gear useless as the car stands still on the slippery start line, a tentative dribble up the hill, no braking and lifting far too early for the Esses, long uphill sprint to the finish, bogged down with a change into top... 54 seconds.

Another run, bravery increasing, slowing later into the bends, 51.8 seconds.  Third practice, still very wet - forgot to close my visor, flicked it down on the climb for a perfectly vision free assault of 51.7...

Finally the skies clear and on a drying track we're into the forties with a 48 second climb. Excellent! Still lifting where I needn't, far too early for the Esses, and still not braking. I'm beginning to question my delusions of adequacy.

Our high spirited entourage were treated admirably well by the cheery restaurant staff and, ignoring the weather, we took advantage of the open fronted bar. For some reason I thought now would be a good time to have another walk up the hill. Yup, it was still steep, dark, wet - and my only useful strategy decision was not to slide off at the Crossing corner into the hawthorn and not to brakes for the bottom 'S' until I smelt the wild garlic, or saw the bat fly over...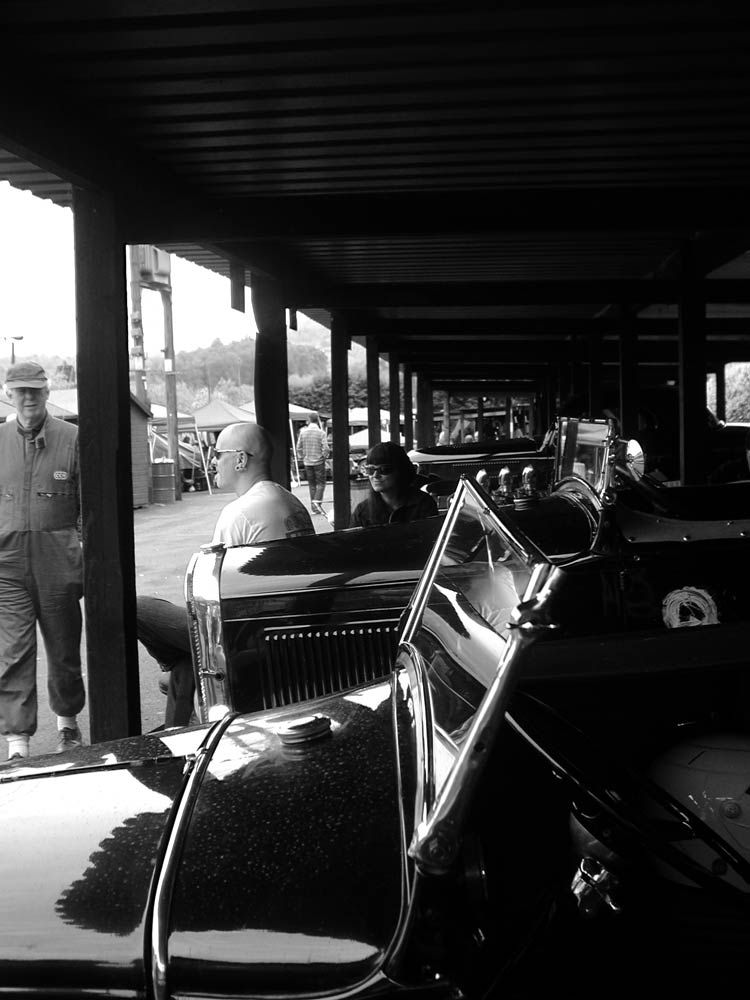 Sunday. Rain stopped at 5.30 but started up again in time for the first runs of the day. Luckily however, by the time the 12-strong ASBO's rumbled to the line there was enough grip to completely bog down pulling away in second. Kept it in second for a greasy bend run of 48.6.  After lunch we had one more run on a pretty dry track. Queuing in the sunshine - it was lovely to have people come over asking questions, genuinely entertained to see us there.  Pulled off the line with a tad of wheelspin in first, smiling as the announcer said "we were chatting to the flathead boys last night and they're all quite insane" lift a little for Kennel bend, again at the reverse camber of Crossing, out of revs and a late lift at the bottom S - but still too early! - hint of tyre squeal between the Esses, and a final breathless out of revs in second sprint to the line. 46.27 seconds. Waving to the marshals all the way back down.  Lovely.

Back to pits, pop the wings back on, tie on the camping gear and charge for home. Four and a half hours burbling across the country with a tray of tomato plants for company and a friend's A roadster silhouetted against a never ending sunset in the mirror. Brilliant.

Only a few more grey hairs till next time...